Most Swedish wooden horse artists are elderly and bring many years of experience to their art. It is these craftsmen and women who carved and painted our horses.
The limited edition horses we offer for sale are either replicas of antique horses or were inspired by them. Each one is signed and numbered.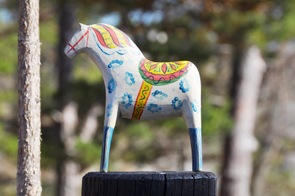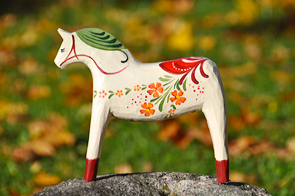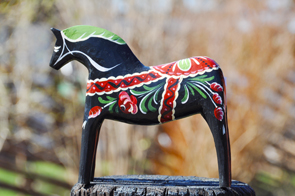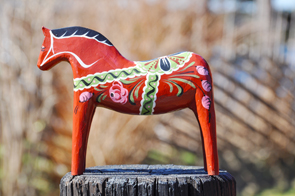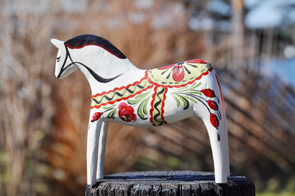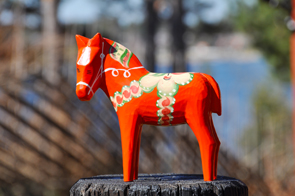 Jubileum
It all began one autumn day in 1982 when our dear friend Madeleine Åberg established a little shop on Österlånggatan 11 in Stockholm´s Old Town.
Overtime, Madeleine´s little shop grew and moved a few times until finally ending up at this present address where The Wooden Horse Museum Sweden is now located.
The horse "Jubileum" is a limited edition horse specially created by Åse Larsjos for our 30th anniversary 2012. Edition is 30 pcs.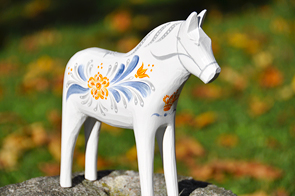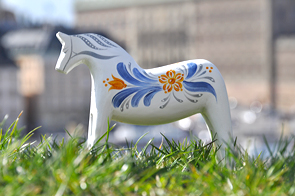 We are Paris
"We are Paris" is a horse made to commemorate innocent civilians who lost their precious lives or were injured in Paris on Nov. 13, 2015.
Doctors without Borders is an organization established in 1971 by a group of Parisian doctors and journalists, with the intention of helping people in need of emergency medical aid regardless of their beliefs, religions, ethnicities or genders.
That's why 100% of the profit from selling the "We are Paris" horses will be donated to Doctors without Borders. This is a limited edition of 50 pcs. Designed and painted by Turi Everett.
We are Paris. We are the world. Let's live together in peace!
Le cheval "We are Paris" ("Nous sommes Paris") a été créé pour rendre hommage aux citoyens innocents qui ont perdu leurs précieuses vies ou ont été blessés à Paris le 13 novembre 2015.
Médecins sans frontières est une association établie en 1971 par une équipe de médecins et de journalistes parisiens, avec pour intention d'apporter une assistance médicale aux personnes dont la vie ou la santé sont menacées, indépendamment de leurs croyances, religions, groupes ethniques ou genre.
C'est pourquoi 100% des bénéfices générés par les ventes des chevaux "We are Paris" seront reversés à Médecins sans Frontières. Il s'agit d'une édition limitée à 50 pièces, réalisée par Turi Everett.
Nous sommes Paris. Nous sommes le monde. Vivons tous ensemble en paix!