"Love" was commissioned by the Wooden Horse Museum Sweden as a wedding gift to Swedish Crown Princess Victoria and Prince Daniel upon their marriage on June 19, 2010.
We know they will live happily ever after.

Since 2010, a large part of the profits from "Love horse" has been donated to several organizations such as Swedish Heart and Lung Foundation; organizations for homeless citizens from Sweden and from the European Union; orphans and flood victims in Thailand; Japanese and Swedish Red Cross for tsunami victims in Japan, the Hurricane Sandy victims in New Jersey, USA etc.
Love horse is designed and painted by Anna Linderholm.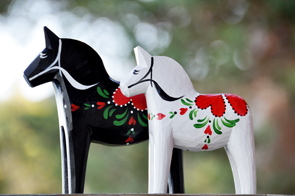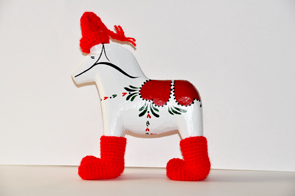 Upon the birth of Swedish Crown Princess Victoria and Prince Daniel´s first-born child, Princess Estelle (Feb. 23, 2012) The Wooden Horse Museum Sweden commissioned folklore painter Åse Larsjos to paint "The Little Star" as a gift to Sweden´s little Princess.
 
Only 300 pcs. of The Little Star horses are made (200 pcs. in red, 50 pcs. in blue and 50 pcs. in pink).
SEK 100 of every Little Star horse that is sold is donated to the Foundation "Save the Children".